JEE Main 2022 | Important Questions | Physics
50 question types in physics, accounted for an average of 40 marks in each physics paper. In other words you could score more than 88 percentile by mastering these 50 question types.
And if we were to add another 87 important questions types (i.e. a total of 137 question types), you can score more than 70 marks or 97+ percentile in JEE Main 2022 physics paper.
All these 137 important question types have been covered in the Important Questions section.
Now, to provide you a brief overview of what you can expect in our product, here are 6 videos for most important question type from Rotation, Kinetic Theory of Gases, Induction and AC, Optics & EM Waves, Semiconductors, and Communications
Note that the explanation videos (10 min each) provided for the top 50 question types, cover key concepts, formulae and JEE Main 2021 questions for that question type. Also note that you will have access to chapter wise short notes, and 'Download JEE Main 2021 Questions' by chapter and also by exam date, and will have access to 'Ask a Doubt' that will give you access to our lead faculty (IITians)
Here are 6 of the 137 Important Question Types
There were $12$ questions in JEE Main 2021 on Moment on Inertia with $5$ of them involving a group of standard objects
There were $7$ questions in JEE Main 2021 on $C_p$, $C_v$ basics
Induction and Alternating Current
There were $17$ questions in JEE Main 2021 on LCR Circuits with $9$ of them involving LCR series circuit with AC source but NO resonance
There were $12$ questions on basics of traveling EM waves in JEE Main 2021 papers
There were $13$ questions on logic gates in JEE Main 2021. If you spend few hours you will be able to get almost all of these questions right.
There were $13$ questions on Amplitude Modulation in JEE Main 2021. (Easy topic to master)
How to make the most of Important Questions Section - by Vikas Sir (IIT Delhi)
Well there are about 750 different types of questions that have been asked or could be asked in JEE Advanced, JEE Mains, NTA Abhyas, HC Verma, Cengage, DC Pandey etc. And from the perspective of JEE Advanced you should have gone through them all at least once but from the perspective of JEE Mains, good news is that examiners ask questions from a fairly limited number of question types and interestingly 124 different types of questions alone can get you more than 70 marks (out of 100), which means that you can now plan your revision so that you practice at least these 124 question types multiple times and you can be rest assured that you will do very well.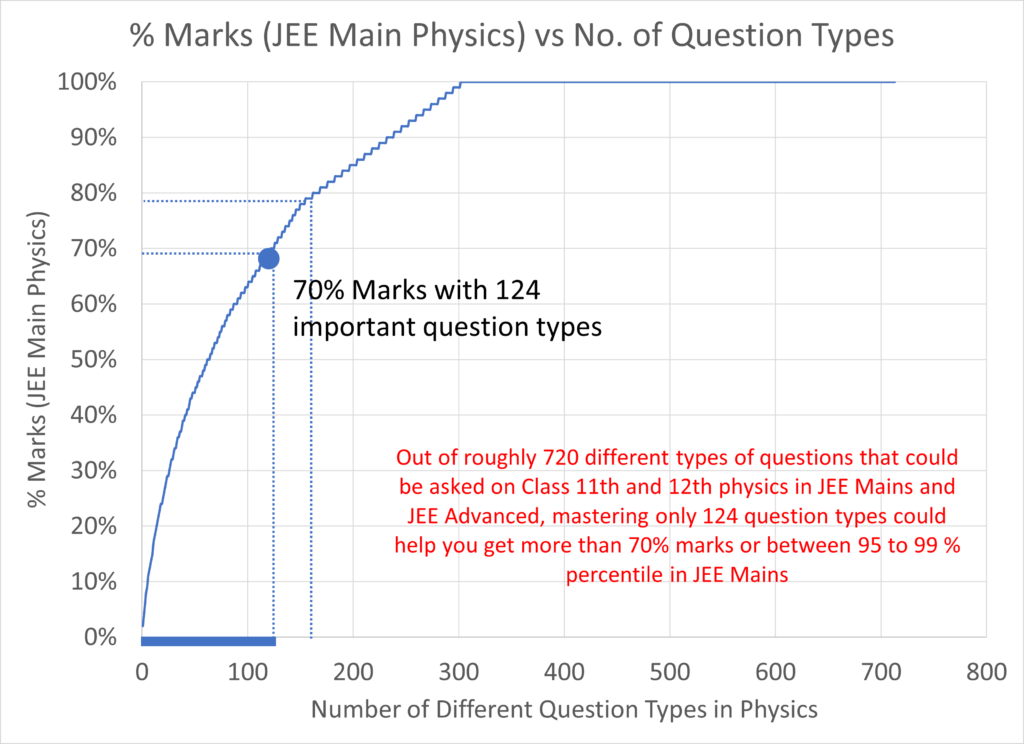 In JEE Main 2021 physics papers, there were 30 questions per physics paper, out of which one could attempt a maximum of 25 questions (20 – multiple choice questions and 5 out of 10 Integer type questions).
And as there were 4 allowed attempts (Feb, March, July and August), across these four attempts there were 24 physics papers or 720 unique questions. 
Now, to score 99 percentile one had to score more than 75 marks out of 100 (on an average). And we have no doubt that you are aspiring for the same, which brings us to the current topic. Where should you focus more and what questions you should master to make sure that you get the desired percentile.
Well, there are interesting patterns emerging out of an in-depth analysis of all the papers in JEE Main 2021, 2020 and 2019. And we (team of IITians at AceJEE) are glad to bring you all the information to help you strategize your preparation in coming months. So, we wish you the very best and do follow the recommendations.
But before we jump into important question types, let's take a quick look at the chapter wise distribution of questions.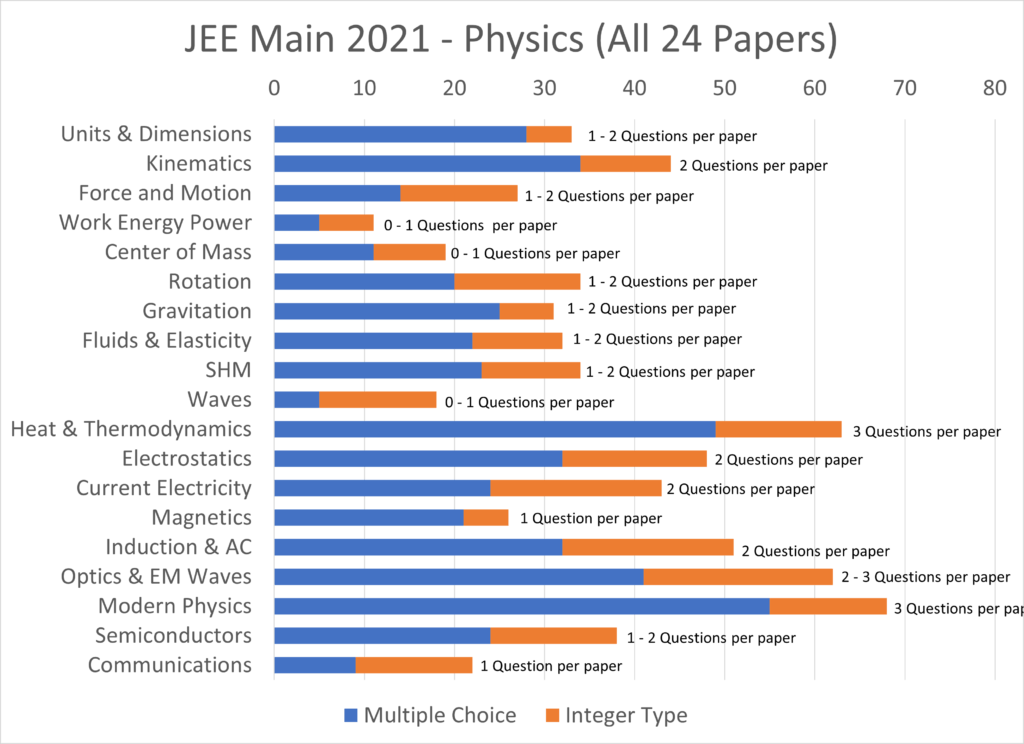 Top 5 chapters simply based on number of questions asked from that chapter are Modern Physics, Heat and Thermodynamics, Optics, Induction & Alternating Current, and Electrostatics / Kinematics (including vector algebra).
Now, while this is helpful at the high level, it doesn't help you prepare smarter to ensure that you score high. For that you need to know the types of questions that are being asked more often than others. And in all honesty, you have to be good at solving these question types to be able to score high percentile in JEE Main physics (no exceptions). Note that the types of questions asked in mock tests of most of the coaching institutes are not aligned with the questions asked in JEE Main examinations.
So let's being with the question: How many different types of questions are there and how many of them you need to master to score 75+ marks.